CONTESTANTS

COLIN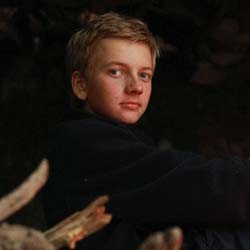 Quick Stats
Nickname: Hardy
Age: 15
Usual Hang Out: His neighbourhood
Future Profession: Orthopedic surgeon
Fave Food: Escargot
Biggest Fear: Not doing his best
Likes: Travelling, running, learning
Dislikes: Complainers, fried tomatoes


When asked, Colin describes himself as an intellectual. This is not an exaggeration. He has a 95% average in school, takes extra courses in the summer to further his academic standing, and is a public speaking champion. He follows the stock market, owning shares in Microsoft and Esso. To Colin, academics are much more important than a social life. Being an only child, Colin relates to adults far better than to people his age. In fact, people his age irritate him, as he finds them immature and shallow.

Colin does like being outdoors….he grows garlic chives in his backyard, but is also a long-distance runner. He trains extensively for cross-country runs, pushing himself further and further. Because he is physically fit, but also has a steel-trap mind, Colin believes he can brave the wild and be successful in all of the challenges he would have to face.
IAN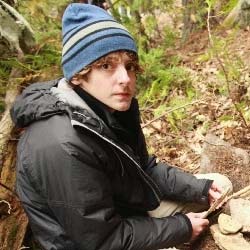 Quick Stats
Nickname: Ice Man
Age: 14
Usual Hang Out: Conservation Area
Future Profession: Biologist
Fave Food: Salami sandwiches
Biggest Fear: Murky water
Likes: All things concerning nature
Dislikes: His allergies to nuts and legumes


On any given day, when Ian's not in school, you can find him in swamps and creeks, brandishing a net to collect specimens for his studies. Ian is obsessed with biology, particularly the study of frogs, toads and insects. His room is full of dead things….bird skulls, bugs, snake skins. His mother is okay with this, as long as Ian leaves his morbid collections shut away. Ian is really into dinosaurs too, with a stuffed collection he is proud to show. People call him a nerd, but Ian doesn't care. He knows how cool science really is.

Ian is known amongst his friends as a practical joker. Any chance he gets, Ian gleefully pulls a fast one on an unsuspecting victim. He loves talking about some of the jokes he has gotten away with. Ian really likes the thought of being with a group in the wilderness, not only because he loves the creatures in the wilderness, but also because he believes he would keep the group entertained.
JADE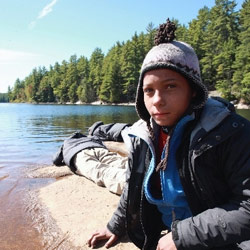 Quick Stats
Nickname: Jader
Age: 13
Usual Hang Out: Outside with her horses and dogs
Future Profession: Veterinarian or writer
Fave Food: Blueberry Pie
Biggest Fear: Heights
Likes: Dogs, horses, nature, fishing, swimming
Dislikes: Loud noises, math


Jade has lived on a 24-acre farm since she was 7 years old. She is an outdoor, nature girl. Any chance she gets, she is outside playing with her three German Shepherds, or taking care of her three horses. She is not just all about the country though…Jade came in first at a Public Speaking competition, which she considers one of her greatest accomplishments. She also likes to write about her country-life experiences in her spare time.

Although Jade hasn't had much experience camping in the wilderness, her fascination with nature draws her to a survival challenge. She is a strong, mature person, who likes to push her own limits, and raise the bar for herself. After begging her parents to get the horses, she taught herself how to care completely for them, and in doing that, proved to her family that she is strong-willed and resourceful.
JUSTIN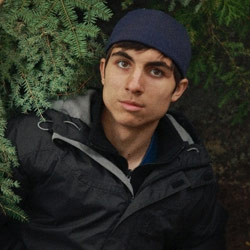 Quick Stats
Nickname: Justin
Age: 16
Usual Hang Out: Band practice
Future Profession: Musician/Police Officer
Fave Food: Steak
Biggest Fear: Ghosts and needles
Likes: Playing music, sports
Dislikes: Sitting at home doing nothing

Justin lives for his guitar. He plays music every chance he gets, singing, writing, practicing with his band, "Vanquish". The band has played many shows in their community and takes their music very seriously. Justin is a gentle person who loves helping people. In the summer, he works as a camp counselor for underprivileged children. He hates being bored, so he also has a small lawn-care service. And if that isn't enough to keep him busy, Justin works with a stamped concrete landscaping company.

Justin has an artistic soul, but also is an accomplished athlete. He was recently awarded the MVP for his high school volleyball team, and won the athletic award for elementary school. He has always loved the outdoors, but his band now takes up a lot of his time. Justin would like to re-connect with his love of nature again, and challenge himself in the wild. Being with a group in the wilderness appeals to him, as he loves helping others in any way he can.
MANAAL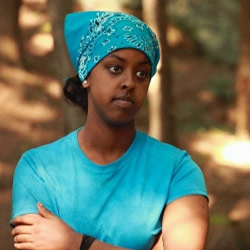 Quick Stats
Age: 16
Usual Hang Out: Public Library
Future Profession: United Nations Human Rights Lawyer
Fave Food: Fettuccine shrimp alfredo
Biggest Fear: Failure
Likes: Vegetables, Belgian endive
Dislikes: Tabloids, pageants


When Manaal was 2 years-old, her mother walked into her room and saw her reading a newspaper. She had suspected that her daughter was special, but this confirmed it. Sure enough, Manaal grew up to be a straight "A" student, was recently voted Secretary for the St. Catharines Mayor's Youth Advisory Committee and volunteers at numerous community outreach programs.

Manaal's father was killed in Somalia in 1993, forcing Manaal's mother to flee the country with her. She had to travel from country to country, surviving any way she could. She encourages Manaal to experience what she had to go through…learning how to survive with very little, under very harsh circumstances. Manaal is up for that challenge. She is very close to her mother and wants to please her, but she also wants to inspire other immigrant teenagers by being on the show. She is determined and driven, and feels she is up for the challenge.
MICHAEL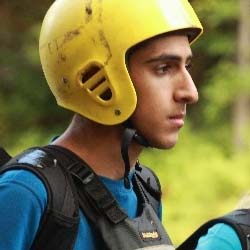 Quick Stats
Nickname: Mikey
Age: 17
Usual Hang Out: His house
Future Profession: Actor or accountant
Fave Food: Tacos, pizza
Biggest Fear: Snakes
Likes: Singing, acting
Dislikes: Two-faced people

Michael and his friend are in the basement, dancing and singing in front of a video camera. They are making yet another video to post onto their YouTube site. Michael loves to sing and dance and was so thrilled when he was cast in his school's production of "High School Musical". He is very close to his family, consisting of a brother, 10, a sister, 2, and a doting mother and father. His mother doesn't know how she will cope if her son goes away for awhile.

Michael has had no wilderness experience. He has been to a cottage, but that's the extent of his northern adventures. He is very much a city boy, spending most of his spare time at the movies, in arcades or fast-food places. Michael's not worried about his lack of experience though. He's planning to lead the sing-songs around the campfire at night.
NICOLE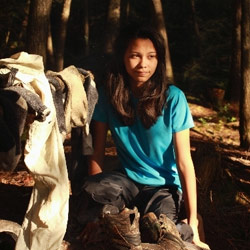 Quick Stats
Nickname: Nikki
Age: 14
Usual Hang Out: Pool, mall
Future Profession: Pediatrician
Fave Food: Salad, pizza
Biggest Fear: Death
Likes: Soccer, tennis, volleyball, track, meeting new people
Dislikes: Annoying people, war

Looks can be deceiving, and Nicole is no exception. With her "top model" good looks, at first glance she looks like a "girly-girl". But in reality, Nicole is a top athlete. She graduated with the Athletic Award, and was made captain of every sports team in the school. Her sports include soccer, tennis, volleyball, cross-country, basketball, track & field and swimming.

Not only is Nicole a top athlete, she also excels in school. She made the honour roll, and received the French award. Before discovering sports, Nicole was bullied and often lonely. Once sports came into her life, she gained great confidence and became much more independent. She loves challenges, and she loves proving to others that she can do anything she puts her mind to. Surviving in the wilderness is a challenge she is anxious to experience, and learn from.
TRISH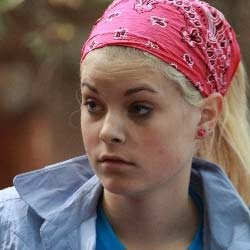 Quick Stats
Nickname: Trisha, Sweetnlow
Age: 16
Usual Hang Out: Mall, nail salon
Future Profession: Dramatic Arts Professor
Fave Food: Chicken nuggets
Biggest Fear: Heights
Likes: Shopping, music
Dislikes: Getting down and dirty

There is certainly no moss growing under Patricia's feet. If she is not in a school play, she is singing in the choir, performing with the school's improv team, meeting with the Mayor's Youth Advisory Committee, volunteering at the Boys and Girls' Club, or helping at the retirement residence. She also works part-time at Tim Horton's. She is addicted to her Blackberry and hair-straightener, and hates going anywhere public without her makeup.

Patricia wants to prove to herself, and especially to others, that she can overcome her "urban" addictions, and face life in the wilderness. She is positive that she can live without her Blackberry, and get over the fact that her hair will not be coiffed for long in the great outdoors. Patricia's determination in life is very evident from her various activities outside of the classroom. She considers herself to be great with groups of people, and is certain she will thrive outside of her comfort level.